Rain Gutters in Fresno and Madera, CA
For more than 65 years, the experts at Purl's Sheet Metal & Air Conditioning have been offering high quality custom rain gutter services throughout the Fresno, CA and Madera, CA area. We started out in 1952 as a small sheet metal fabrication shop in Madera, CA. Since then we've grown to offer additional services including air conditioning, heating and indoor air quality. We can do just about anything you can think of when it comes to custom rain gutter work. We also have high capacity capabilities if you happen to have a lot of surface area covered with rain gutters. Our team always goes above and beyond to make sure the specifications of your rain gutters match what you need, and that they're built to last. Give us a call today to talk with one of our expert technicians.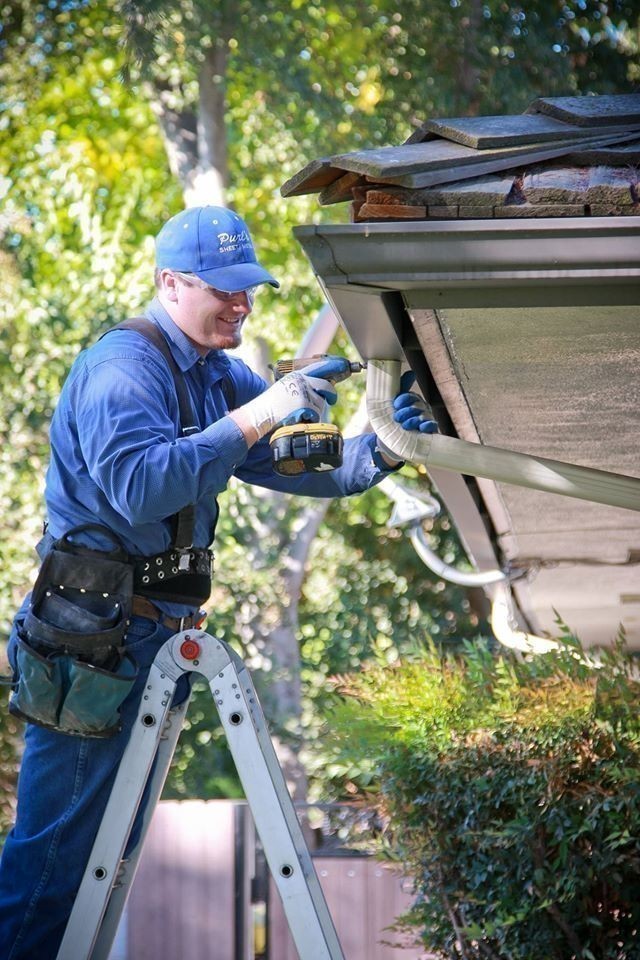 Rain Gutter Installation and Replacement Services in Fresno
While many people may not realize it, rain gutters have a very prominent place on your home. Not only can old rain gutters look bad, but they can also start to rust or develop holes. If you have old rain gutters that are ugly, rusted or clogged, it might be time to replace them. Purl's Sheet Metal & Air Conditioning offers custom rain gutter installation and replacement services in Madera, CA. We customize and extrude continuous rain gutters at your home. Our service trucks are equipped to let our technicians cut brand new, continuous rain gutters to the exact specifications of your home. Available in 29 colors, new rain gutters are a great way to add some clean lines to your home's profile. Call us today to learn more.
Rain Gutter Repair
When it rains you want to know that your gutters are safely channeling the water away from your home. If they're not working, your home's roof can turn into a waterfall. Like many things, your rain gutters need maintenance in order to keep operating properly. Purl's Sheet Metal & Air Conditioning provides comprehensive rain gutter repair in Fresno and Madera , CA. If your rain gutters are old and leaking, it might be a good idea to call for service on them. We can fabricate a new section of rain gutter on the spot that matches your current gutters. This is a great way to improve the function and beauty of your home.
Rain Gutter Estimates
When you call Purl's Sheet Metal & Air Conditioning, you'll talk with one of our trained rain gutter experts. We offer free estimates for our rain gutter services in Madera, CA.. That means there's no risk for you to call and talk with us. We'd love to work with you to improve the water evacuation at your home and the beauty of your property.
Purl's Sheet Metal & Air Conditioning provides sheet metal fabrication and air conditioning services to the Madera, CA area.