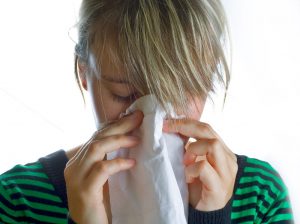 Now that it's May, we're deep into the allergy season. This time of year can be miserable for people who suffer from pollen and grass allergies, leading to the dreaded "hay fever." Even for people who don't have specific allergies like these, the high pollen count in the air can add an extra level of irritation to the day from an itchy nose to mild headaches.
You don't have to suffer during allergy season. There are ways to reduce the problem, and we've recently looked at how installation of indoor air quality products in your home can make a big difference in how allergy season affects people in your household. Talk to our professionals to find out more about our indoor air quality services in Fresno, CA and throughout the Central Valley. We'll find a solution for you!
A Few More Notes on Allergy Season
We want to emphasize how much trouble allergies are during this time of year—and how most of their symptoms are preventable. The high levels of pollen in the air as flowers bloom in the spring warmth triggers allergic rhinitis, a.k.a. hay fever. If you or people in your household suffer from hay fever during this time of year, keep a close watch on the pollen count each day. (Here's a local forecast for our area.) If the forecast shows pollen counts in the high-medium or high levels, this is when you should take morning allergy medication. Keep your doors and windows closed, and avoid outdoor activity in the morning, when the pollen count is at its highest.
Of course, closing up your house to protect indoor air quality is more helpful when you already have high indoor air quality. This is where our indoor air quality products can make a big difference. They'll see that allergens inside your home are eliminated or kept to a minimum. Running the AC is helpful, but if the HVAC system doesn't have powerful enough air filters (and we aren't talking about the standard system filter, which isn't an air quality product) all the air blown around the house might make the problem worse. We can help outfit your ventilation system with the right type of air filter. If your ventilation system is drawing pollutants into it through leaks in the ductwork, we can seal up the ducts to keep the air clean. We also install a variety of air cleaners and air purifiers that can make a huge difference. Just make sure you work with our professionals and don't try to guess what sort of system you need.
Ductless Mini Splits
This is a possibility for helping to combat allergies we didn't mention in our previous post. A ductless AC doesn't blow around pollutants gathered inside a ventilation system; this helps to create a cleaner indoor environment. It's an extensive change to the way you cool your house, and cutting down on allergens in the air is only one of a host of reasons why ductless mini splits are good ideas for new air conditioning installation.
Purl's Sheet Metal & Air Conditioning serves the Central Valley. Quality Is the Cornerstone of Our Success since 1952.