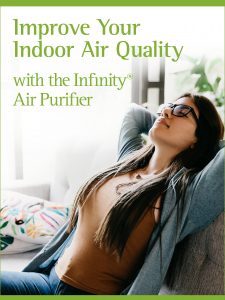 We offer many different options for improving indoor air quality in the homes of our customers. It starts right with repairing the ventilation itself, which can harm indoor air quality if it is leaky or poorly designed. Our technicians also install many of the best IAQ devices that remove unwanted particles from the air, such as dust, lint, pollen, dander, chemicals, smoke, volatile organic compounds (VOCs), dust mites, and more.
Right now, many of our customers are inquiring about installing UV lights and air purifiers in Fresno, CA and elsewhere in the Central Valley. Ultraviolet air purifiers are an effective device against organic pollutants that may circulate through the air of a house. The UV rays from the lights in these purifiers disrupt the cellular structure of such harmful contaminants as bacteria, mold spores, viruses, and allergens; and neutralizes odors and harmful VOCs. UV air purifiers also stop mold growth inside HVAC systems, improving their energy efficiency and preventing the terrible odors from "dirty sock syndrome." Unlike room air purifiers, the UV systems are central and clean the air throughout the house.
Air Purification systems such as the Carrier Infinity Air Purifier System treat 100% of the air flowing through the home comfort system.  These systems use precision point ionization to charge particles as they enter the purifier.   The particles are attracted to the air cartridge and then captured and killed.