The Benefits of Zone Control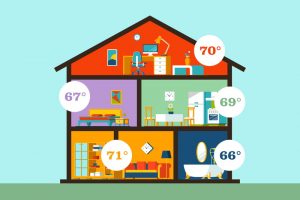 Adding a zone control system to your home adds many benefits and cost savings. A zone control system allows you to control your family's home comfort by maintaining different temperatures in different areas of your home. Each zone has its own thermostat and temperature setting. This can eliminate the "hot" and "cold" spots in your home, while saving energy and money.
How does zone control work?
Zone control systems give you the ability to adjust the temperature for different parts of your home. Traditional systems use a thermostat that sets one fixed temperature for the whole house. Zone controls gives the homeowner ability to adjust each area of the home individually by using a series of dampers installed in the ductwork. These dampers can close off areas of your home and allow you to only heat or cool the parts of the home your family is using.
Benefits
Zone control can reduce the amount of energy your HVAC system uses. The zone control application can work in any type of home. This system will save energy and
money. When you divide your home in distinct zones, you make it possible to heat and cool only the rooms you are currently using. For example, you can increase the cooling in just the kitchen when cooking a meal. Zone control is an upgrade to your system. The money saved in heating and cooling costs will pay for itself.
Energy Efficiency
Zone control will increase energy efficiency and energy savings when used properly in your home. You can set the ideal temperature in the bedrooms to sleep at night and use the dampers to close off the other rooms you are not using. This will save money on your monthly electrical bills.
Installation
It is important to hire a professional to install your zone control system. Purl's Sheet Metal & Air Conditioning offers complete zone control installation in Madera, CA.  Our technicians a trained and skilled in comprehensive zone control upgrades. If you are ready to learn more about upgrading to zone control, give us a call to schedule an appointment.
At Purl's Sheet Metal & Air Conditioning, "Quality Is the Cornerstone of Our Success" since 1952. Leave all your heating and cooling needs to our experts.