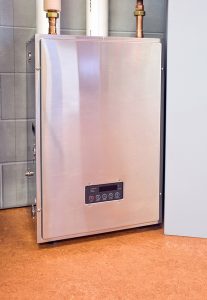 You may have heard about the tankless water heater as a replacement option for the standard storage tank water heater. A tankless water heater applies heat to the water that passes through its heat exchanger, so it heats up water whenever there's a demand for it. When a hot water tap comes on, water starts to flow through the heat exchanger, which activates it and turns on the gas jets. The heat only remains on when the water is moving, and shuts off when the demand stops. There's no need to store the water at any point.
The tankless water heater offers several excellent benefits compared to the traditional tank water heater. Just listing those may make it sound like a tankless water heater is automatically the better option:
Higher energy efficiency
Longer system life
Won't run out of hot water
Small size
But we recommend you look before you leap! If you are getting ready to replace your old water heater, it is best to call on our professionals for the job. They'll help you select the ideal system to meet your needs and your budget.