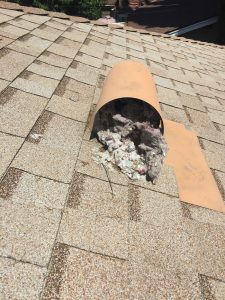 As one year ends and another begins, you will probably take a look over your house to find various cleaning and improvement projects. One that you may not have thought of, but which is a critical job to have done on a regular basis, is dryer vent cleaning.
What is dryer vent cleaning?
The dryer vent is the hose and outdoor vent that removes heat and moisture from a household clothes dryer. The vent can be located in a variety of locations, such as on the roof (as the one in the picture at the top of this post).