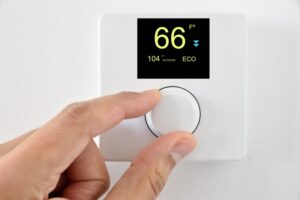 You can probably go online and find instructions on how to do a DIY installation for just about anything. That doesn't mean you should attempt all of them. It's one thing to follow instructions on how to wire up your home's new sound system. It's quite another when it comes to installing a new thermostat.
We know what you're thinking: "How complicated could putting in a thermostat be? Don't I just have to wire it into the wall?" It's more complicated than that, but there are other reasons why we don't recommend going it alone on this. If you buy your own thermostat and then attempt to replace your old one with it, plenty can go wrong. Expensively wrong.
Here's Why Thermostat Installation Is Best Left to Professionals
We'll start with some of the basic reasons. Wiring a thermostat requires you have electrical knowledge to do it accurately. There's a risk of electric shock if you don't know what you're doing with the wires, and you might also end up causing electrical damage to the circuit breaker panel.
But let's say you do have some electrical know-how. You still need to leave this job to the professionals for an important reason, which is that a thermostat isn't a simple plug-in device that works with any HVAC system. There are many different types and configurations of HVAC systems, and a complex control device for one must be specifically matched to it.
An HVAC system may have an AC and a gas furnace, or an AC and an electric furnace. The heater or air conditioner may be multi-stage, or the blower fan is variable speed. The house may be equipped with zone controls. All these HVAC variants affect what type of thermostat will work with the system.
Putting in a thermostat that isn't matched to the HVAC system risks much more than the system not responding to the new controls. A mismatched thermostat can damage the HVAC system and the electrical system. The clash between the instructions from the thermostat's computer algorithms with the HVAC system can harm components. (And if you add in a possible wiring error, things get even worse.)
Thermostat Installation Is Straightforward With Our Experts
If you're interested in making an upgrade to a thermostat with better features, or your old one doesn't seem to be working, talk to our professionals. For a faulty thermostat, it may turn out that all you need is a basic air conditioning repair in Fresno, CA to get it to work. As for upgrading, we can look at the options. Sometimes it's best to wait until the HVAC system itself is upgraded before putting in a high-tech thermostat, especially if the system is getting up in years. In other cases, we can find the right type of thermostat to work with the system and make sure that you'll get the most out of your new climate controls.
Call Purl's Sheet Metal & Air Conditioning when you need cooling help: "Quality Is the Cornerstone of Our Success" since 1952.