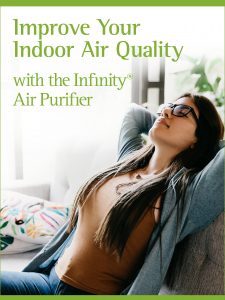 We offer many different options for improving indoor air quality in the homes of our customers. It starts right with repairing the ventilation itself, which can harm indoor air quality if it is leaky or poorly designed. Our technicians also install many of the best IAQ devices that remove unwanted particles from the air, such as dust, lint, pollen, dander, chemicals, smoke, volatile organic compounds (VOCs), dust mites, and more.
Right now, many of our customers are inquiring about installing UV lights and air purifiers in Fresno, CA and elsewhere in the Central Valley. Ultraviolet air purifiers are an effective device against organic pollutants that may circulate through the air of a house. The UV rays from the lights in these purifiers disrupt the cellular structure of such harmful contaminants as bacteria, mold spores, viruses, and allergens; and neutralizes odors and harmful VOCs. UV air purifiers also stop mold growth inside HVAC systems, improving their energy efficiency and preventing the terrible odors from "dirty sock syndrome." Unlike room air purifiers, the UV systems are central and clean the air throughout the house.
Air Purification systems such as the Carrier Infinity Air Purifier System treat 100% of the air flowing through the home comfort system.  These systems use precision point ionization to charge particles as they enter the purifier.   The particles are attracted to the air cartridge and then captured and killed.
Currently, people are most concerned about the spread of COVID-19, the illness created by the novel coronavirus.* We install APCO Fresh-Aire UV lights, which have been tested and proven effective against pathogens similar to the novel coronavirus, some that require an even greater dosage for inactivation. The APCO line of Fresh-Aire UV purifiers can achieve up to a 99.999% reduction of microorganisms, as proven in lab tests. However, there are other factors to consider when using UV lights against the novel coronavirus, and even the finest APCO product can't protect you from all forms of COVID-19 transmission on its own.
Regardless of your reason for interest in having an APCO Fresh-Air UV system installed in your house, they do provide numerous benefits that will last over many years of operation. The APCO line uses award-winning air treatment technology, is ozone-free, and can fit inside smaller ductwork. APCO products are powerful enough that they have commercial, medical, and agricultural use.
If you currently do not have any indoor air quality systems in place (and the air filter on the HVAC cabinet doesn't count), we recommend you look into installing both an air filtration system and a type of air purifier. A Fresh-Aire UV system from APCO is an excellent device to pair with air filters for UV room disinfectant, and it is especially beneficial for people in a house who suffer from asthma and allergies.
You can trust our technicians to find indoor air quality solutions that match your needs and will do the best job of keeping your family comfortable and healthy. Get in touch with us today to learn more about the APCO Fresh-Aire UV systems.
Call Purl's Sheet Metal & Air Conditioning to learn more about UV air purification options. "Quality Is the Cornerstone of Our Success" since 1952.
*There is much to consider regarding the COVID-19 virus (Coronavirus) and its possible transmission in your home. While there are various and effective indoor air quality measures available to help protect your safety, including duct sanitization, ultraviolet (UV) germicidal light treatment, and HEPA air filters, they alone cannot protect from all forms of COVID-19 transmission. It is important to follow all official guidelines for preventing the spread of this virus.