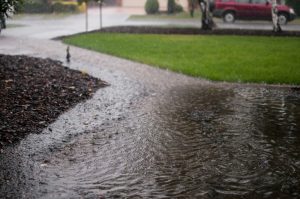 The rainy season will soon start, so this is a good time to ask this important question: Are your rain gutters in good shape to handle the downpours, or do you need to install new ones?
People often forget the major importance of rain gutters. They're responsible for collecting rainwater off the roof and removing it so it doesn't cause erosion and staining to the building material or the sides of the home. The gutters route the water through downspouts to the storm drains, preventing water from pooling over the property and causing damage or creating flooding in the house. If your rain gutters are starting to decay and come loose, or they're leaking extensively, you'll want new gutters installed before the fall rains arrive.
Ways to Tell Your Old Gutters Need to Go
You don't want to wait until the rain gutters tear away from your house and collapse before you get new ones. Below is a list of common indications you need to replace your rain gutters.
Water pools or mold form around your home's foundation. When you start to see mold growing at the outside base of your house or standing pools of water, it's a warning that the gutters aren't properly channeling water into the storm drainage system or are suffering from extensive leaks.
Sagging gutters. Over time, gutters will start to sag due to age. Gutter sag isn't just something you can expect—it's telling you the gutters are failing. The strain from the sagging will eventually cause the gutters to start to tear away from the house.
Gutters pulling away from the house. This is one of the most obvious signs the gutters are in trouble. Don't hesitate to call for either repairs or gutter replacement when you notice this.
Cracks and splits. You'll need a ladder to get a close look at your gutters to notice this type of damage. Small cracks are a large problem for gutters because they will continue to grow and widen.
Indications of corrosion. Watch for peeling paint on the gutters and spots of orange. These are warnings that rust is starting to set in as water isn't getting effectively removed or cracks are allowing water to seep under the paint.
How Long Can Gutters Last?
This depends on the material. You can expect twenty years from steel and aluminum gutters. The downspouts may last for thirty years. However, if you aren't regularly cleaning the gutters and applying sealant, they will age faster. Serious winds and downpours can also damage gutters, so we recommend you pay close attention to the condition of your home's gutters each year.
We Are Your Best Choice for New Rain Gutters
As you can tell by our name, one of our specialities is sheet metal fabrication. We started in business seventy years ago as a sheet metal company. Today we operate a full sheet metal shop with the most advanced in custom sheet-metal fabrication technology. When you call us to install new rain gutters, you won't get off-the shelf parts simply cut to size. We'll fabricate the exact type of rain gutters you need for your house, gutters that will do a better job and last longer than pre-fabricated ones.
Reach out to Purl's Sheet Metal & Air Conditioning to schedule rain gutter installation. Uncompromised Quality & Customer Service Since 1952.