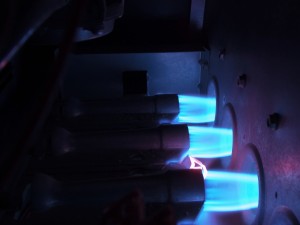 You may have heard about furnaces switching to something called electronic ignition. If you have a gas furnace, you might think this doesn't apply to you—after all, wouldn't electronic ignition only apply to electric furnaces?
The keyword you might be overlooking is ignition, which means igniting something. Electronic furnaces do not use any type of combustion or burning to work. Instead, they allow electric voltage to flow through a series of heating elements, which then warm up through electrical resistance. The only furnaces that use electronic ignition are the ones that burn natural gas (or less common options like propane or oil).
If you're curious about how this works and how to light a gas furnace with electronic ignition, we'll explain below. We'll also look at why electronic ignition is a beneficial change from standing pilot lights.