Bob Martin joined Purl's Sheet Metal in December of 2003. Bob is in our Service Department and leads our dispatch team. Bob enjoys coming to work every day and the fact that you never know what the day may bring! He said he really likes the relationships he has developed with our customers over the years. When you listen to Bob work with our customers, it is easy to see why he is so good at his job.
Bob has seen many changes at Purl's Sheet Metal. One of the biggest changes he mentioned was the move to our newest location in 2010. We went from very tight quarters to having enough room for everyone and some room to grow. In terms of technology he feels the best change has been the addition of computer tablets in the field. This allows our service technicians to take payments on site and communicate to Bob and the office directly through the tablet. Bob said he is proud of the fact it has made a big difference in the overall efficiency of our service team and increased our ability to get to customers faster for break downs.
Bob is the proud father of 6 children, and 15 grandchildren. The oldest granddaughter is 2nd year at UCLA and the oldest grandson just finished basic training for the Air Force. Just talking with him about all of his children or grandchildren you know instantly how proud he is of each and every one! He has been a very active volunteer for Special Olympics for over 12 years. He loves working with the kids and getting involved with the program. Bob enjoys spending time with his wife and the whole family. He loves to camp and spend time at Lake Tahoe.
Anyone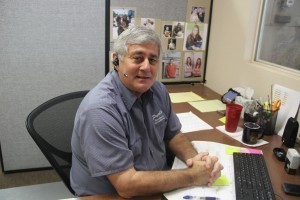 who knows Bob also knows he is an avid sports fan and a huge baseball fan. When asked how he became a Giant's fan, he said "I was born into it!" His mother used to listen to baseball games on the radio when he was young and he has fond memories of her shouting at the radio about Willie Mays… "Hit that ball Willie". He has shared his love of sports with his children and grandchildren.
Bob said that leadership and teamwork are key at Purl's Sheet Metal. He remembers the summer of 2009 when there were over 30 consecutive days of record heat above 100 degrees. Calls were flooding the office. Right in the middle of this heat wave, the computers went down for a couple of days. Bob, Melissa and our whole office were taking calls and hand writing tags as fast as possible. Our service technicians were working into the nighttime to try to get to every call. Bob said he was so proud of our whole team and the fact that we were able to take care of all of our customers in this crisis. He said he learned from this the importance of the entire team. He said he enjoys his job and appreciates the team environment and the big community involvement. He said Purl's Sheet Metal & Air Conditioning just feels like one big family.