The hot weather has arrived in the Central Valley.  One of the ways our team stays cool at Purl's Sheet Metal is with cool snacks and treats.   This week it was homemade popsicles.   We made strawberry watermelon popsicles from fresh fruit. This is a healthy and refreshing summer treat that everyone loved.   It's easy and so good for you.   Make your own variation for some extra fun.
2 cups of watermelon
            2 cups of strawberries
            Juice of 1 lemon
Blend ingredients together until liquefied.   Once liquefied pour into your favorite molds.
Freeze for 4-6 hours and then ENJOY!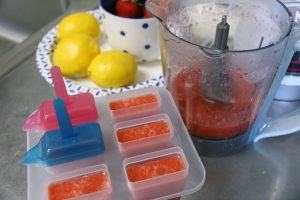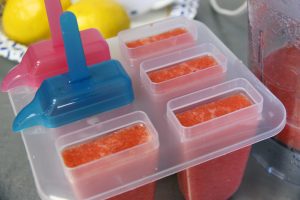 Don't forget your pets on these hot days.  Have a cool place for your pets with plenty of shade and fresh water.    Hot surfaces can burn their paws and many pets can overheat easily.  A little water in a kiddie pool is also a good choice for many pets.
Our best summer tip for your indoor home comfort is to make sure you air conditioning system is serviced by a professional HVAC technician so you are prepared for the long summer.  It is a good idea to call for preventative maintenance to avoid any major breakdowns during the peak season.    Our service technicians are trained professionals and will get your air conditioning system ready for the triple digits temperatures in Madera, CA and the surrounding area.