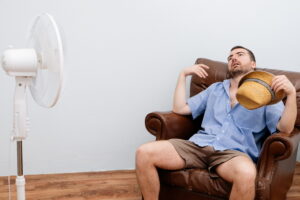 Now that we're experiencing major heat in the Central Valley, home air conditioning systems are putting in steady work. You almost certainly run your AC on most days. But something isn't right—you're handling your AC the same as you normally would, but the house won't cool down enough. You're worried: what's causing the air conditioning system to fall behind?
Below are some reasons you may have a struggling AC during our early wave of hot weather.
The 20°F temperature differential
Your air conditioning system has a limit on how much it can cool a space. In a heat wave, your AC may run up against these limits and feel as if it can't properly cool the house. The temperature differential for your AC—the amount it can lower the indoor temperature compared to the outdoor temperature—is 20 °F. If you set the thermostat to 72°F on a 95°F day, the AC won't be able to get to your desired temperature. We recommend a thermostat setting of 78°F, which can handle outdoor temperatures up to 98°F without trouble.
The ductwork has air leaks
Poor ductwork that's leaking air will cause a general decline in cooling ability. Not only is cooled air going to waste through the leaks, but the whole HVAC system will lose air pressure, leading to a decline in airflow and comfort. Duct leaks must be sealed by professionals.
The condenser is blocked
If you've only just started using your air conditioning system for the first time this year, check the outdoor condenser cabinet to see if anything is obstructing it. The condenser needs at least a foot clear on all sides. If blocked, it cannot exhaust heat from indoors to properly cool the air.
The air conditioning system is leaking refrigerant
Loss of refrigerant from an AC will eventually cause the system to break down, but there will be earlier warnings of this problem, such as a drop in cooling capacity. If you notice other warnings leaks (a hissing sound, ice on the coil) call for repairs right away.
The air conditioning system is too old
Loss of cooling capacity is a major warning sign of an air conditioner coming to the end of its service life. If your air conditioner is in the 10 to 15-year range, poor cooling power might mean it's time to consider a new system. If your AC is more than 15 years in service, loss of cooling usually means the system heading to a final breakdown.
A reminder about the air filter
The trouble with cooling your house could be as basic as a clogged air filter. If you've left the same filter in place through winter, it will be congested with debris, and this will lower how much air the AC can cool. Change the filter and this may solve the problem—and keep up with regular changes throughout the summer, usually every 1 to 3 months.
Call us for air conditioning repair in Fresno, CA if you think your AC needs help.
Look to Purl's Sheet Metal & Air Conditioning for the best in air conditioning system services. "Quality Is the Cornerstone of Our Success" since 1952.