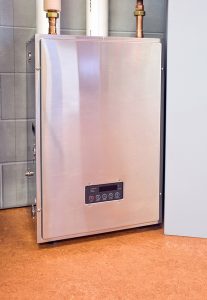 You may have heard about the tankless water heater as a replacement option for the standard storage tank water heater. A tankless water heater applies heat to the water that passes through its heat exchanger, so it heats up water whenever there's a demand for it. When a hot water tap comes on, water starts to flow through the heat exchanger, which activates it and turns on the gas jets. The heat only remains on when the water is moving, and shuts off when the demand stops. There's no need to store the water at any point.
The tankless water heater offers several excellent benefits compared to the traditional tank water heater. Just listing those may make it sound like a tankless water heater is automatically the better option:
Higher energy efficiency
Longer system life
Won't run out of hot water
Small size
But we recommend you look before you leap! If you are getting ready to replace your old water heater, it is best to call on our professionals for the job. They'll help you select the ideal system to meet your needs and your budget.
A Few Cautions About Tankless Water Heaters
There are several drawbacks to tankless water heaters that may affect your decision about whether to have one installed to replace an older unit. First, tankless water heaters are more expensive to purchase than a conventional water heater. They will return higher savings over their service lives thanks to their efficient performance (they only use energy to heat water as its needed, rather than staying on to keep stored water at a set temperature). The systems have longer lives, and that provides even more opportunities to save money. But if your immediate budget is tight, it might not be feasible to go with a tankless water heater.
Second, although tankless water heaters won't run out of hot water—they will always heat more when there's need for it—they can be overwhelmed with demand when multiple taps are on. When that happens, the water heater will start to lose its efficiency. A technician can determine if your household uses enough water simultaneously that it might overwhelm a tankless unit and cause it to become inefficient. To overcome this problem, you can have a second tankless water heater installed, but if this is too costly, the technician may recommend using a storage tank water heater. In general, tankless water heaters are better for smaller family homes.
A New Standard Water Heater Can Also Do the Job
If it turns out that a tankless water heater isn't right for your next installation, you can rest assured that our team will find and install the most efficient tank water heater available. As long as the water heater is accurately sized for your home's needs, you shouldn't run into problems with your home's hot water supply.
Find out more about water heaters in Fresno, CA and the options available to you with a call.
Get in touch with Purl's Sheet Metal & Air Conditioning: "Quality is the Cornerstone of Our Success" since 1952.