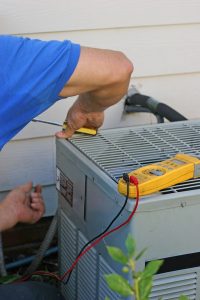 We're experiencing extremely hot days in the Central Valley—days with true summer heat, and spring has only just started. You may have had to turn on your AC for the first time in several months to battle the heat. But your air conditioning system is going to need extra help to handle the continuing heat we'll face through the middle of the year: professional air conditioning maintenance.
We always stress with our customers the importance of having their air conditioning systems professionally inspected and tuned up annually, preferably in spring to beat out the hot weather. The weather is already turning hot, so the time to call us to schedule your regular air conditioning maintenance in Fresno, CA is now.
Why Maintenance Is So Critical
Anywhere people need to use air conditioners to cool down their homes, air conditioning system maintenance is an essential job. When you consider how much you rely on your AC during our scorching Central Valley summers, the word "essential" doesn't seem strong enough. Critical or vital is better, because the problems you may face without a well-maintained air conditioning system in summer can count as major emergencies.
We'll go over the reasons why you should never miss air conditioning maintenance:
This is the worst scenario for an AC in summer—no cool air coming from it at all. These "no-cool" emergencies are most likely to strike during the hottest days of the year because of all the stress on the AC. You don't want to get trapped without air conditioning on a 100°F day! Regular maintenance is your best defense against this: our inspections will catch problems early so we can fix them, and our extensive and meticulous cleaning and adjustments will help your air conditioning system run without trouble, no matter the heat.
A central air conditioning unit consumes large amounts of electricity, more than almost any appliance in the home. If it's not maintained each year, it will begin to drain more power than necessary. You'll start to find your summer comfort is more expensive than it once was. With maintenance, you can keep costs in check.
If you want an interruption-free summer of cooling, maintenance is a great tool. More than 50% of the repairs your AC may need during its service life can be prevented thanks to maintenance.
You never want to lose the protection of the equipment warranty on your AC, because it could mean paying for a major repair the warranty would otherwise have covered. Skipping maintenance can void the warranty—so make sure you don't miss this regular appointment.
Join Our Ultimate Service Agreement
You don't have to stress yourself over air conditioning maintenance—leave the hard work to us! Simply join our Ultimate Service Agreement and you'll receive two HVAC tune-ups per year, one for your AC and one for your heater. We'll call you with reminders so you won't forget. The Ultimate Service Agreement offers special membership benefits as well: call us today to learn more and to schedule your spring service.
Call Purl's Sheet Metal & Air Conditioning to schedule maintenance this spring. Uncompromised Quality & Customer Service Since 1952.