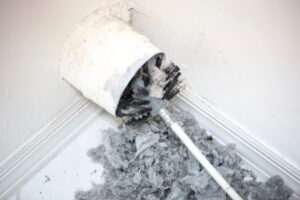 We're glad you're asking this question, because far too many homeowners forget that duct cleaning is an important routine service. Air ducts are hidden from sight in a house, making it easy for people to forget them or realize that they may need occasional service like duct testing and duct cleaning.
We offer duct cleaning in Fresno, CA and have many years of experience handling this service. We can help you determine when it's best to call us to schedule this job, whether as a routine maintenance service or because you've got extremely dirty ductwork.
If your home has never had duct cleaning
Have you lived in your house for more than three years? Is this an older home? Then you probably already need duct cleaning done. In general, we recommend scheduling duct cleaning every three to five years, and if you've never had it done before, your house is likely overdue for it.
Every three to five years
As we just mentioned, the best regular schedule for duct cleaning is every three to five years. The more often you use your HVAC system, the more frequently you'll need the job done. If you have a house that gets dusty easily, you'll also want to keep a closer watch on the ductwork and schedule the cleaning earlier than five years. For most homes, five years is a good routine to stick to.
When there are signs the ducts are extremely dirty
The ductwork itself can give you the signal it needs cleaning. The problems that clogged ducts create—the reason they need cleaning in the first place—will start to appear. You might mistake these for other issues, but there is a way you can determine if the ducts are very dirty (we'll get to that in a moment). Here are the common signs of ducts that need cleaning:
The air coming from the vents smells dusty and even moldy
Your heating and cooling bills have risen steadily without any outward explanation
Air quality in your house has declined, and dust seems to be everywhere
You need to change out the HVAC air filter more often than normal
You can make a test to find out if you've got dirty ducts. Take the cover off one of the supply vents in your house. Reach far down inside with a smartphone that has a camera and a flash and take a picture of the ductwork interior. If the image you see looks like a clogged air filter in a car, you definitely need to call for duct cleaning.
While you're here, schedule dryer vent cleaning
We strongly recommend you also schedule dryer vent cleaning when you arrange for duct cleaning. It's a basic job for our experts to do as part of the same visit, and it's a vital safety measure for a house. Clogged dryer vents do more than make clothes dryers less efficient. They're a major fire hazard and responsible for thousands of house fires every year. We'll clean out this vent so you stay safe!
Call Purl's Sheet Metal & Air Conditioning to schedule duct cleaning in the Central Valley. Uncompromised Quality & Customer Service Since 1952.