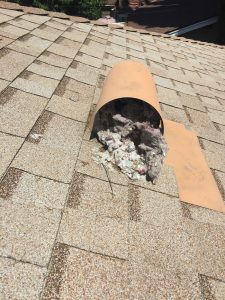 You probably don't often think of your clothing dryer as a source of potential danger in your house. Unfortunately, fires due to clothes dryers are among the leading causes of residential fires. According to the National Fire Protection Association, nearly 17,000 dryer fires occur each year, leading to 51 deaths, 380 injuries, and a reported $236 million in property loss.
What causes these fires? Why would something as seemingly innocent as the clothes dryer turn into a major fire hazard?
The answer: clogged dryer vents.
Fortunately, there's a basic solution to this problem, which is to call us to schedule dryer vent cleaning.
The Reasons Dirty Dryer Vents Are Risky
When you open the dryer immediately after it finishes its cycle, you already know how hot the interior gets. Anything that produces this much heat can cause flammable objects to ignite. That's what can occur in the dryer vent.
The vent is where the heat from inside the dryer is exhausted to the outside, and it's usually a plastic hose. The vent also carries with it lint (whatever the lint catcher doesn't stop), and this lint will start to stick to the dryer vent walls and build up. Lint is extremely flammable. In fact, hikers often carry lint with them as an easy way to ignite campfires. If too much lint collects inside the dryer vent, the intense heat can cause a fire to break out, one that will spread rapidly.
Dryer Vent Cleaning Is Helpful in Other Ways
Although safety is the main reason to have a dryer vent cleaned regularly, it has other benefits. A clean dryer vent helps a dryer work with greater energy efficiency. You won't have to pay as much per load of wash. A clean vent also helps clothes to dry faster—if the water moisture in the dryer can't easily escape, the clothes may remain damp. When you notice your clothes aren't drying thoroughly, it's often a warning the vent needs to be cleaned. The lint in the dryer vent is also a place where unhealthy mold can grow and end up harming the air quality throughout the house.
Dryer Vent Cleaning Schedule
How often should you schedule dryer vent cleaning? We recommend once or twice a year, depending on how often you use the dryer. If you run loads five days a week or more, have the vent cleaned more frequently. One way to simplify the schedule is to include dryer vent cleaning as part of the bi-annual professional maintenance you have done for your HVAC system.
You can trust us for dryer vent cleaning. The next time you plan on services for your HVAC system in Fresno, CA, such as your fall or spring maintenance, call us and ask about including dryer vent cleaning as part of the job. It's a basic task for our team, and it will do an immense amount of good for your home and family. This small investment pays off with a safer house.
At Purl's Sheet Metal & Air Conditioning, "Quality Is the Cornerstone of Our Success" since 1952. Schedule dryer vent cleaning and other HVAC services today.