Wild Fires & HVAC systems
The air quality in the Central Valley has been greatly affected by the many wild fires burning in our area.  We can look out our window and see the smoke in our Valley.   Smoke mixed in the air from wild fires often includes a lot of small particles.   When you run your HVAC system in these conditions some of these partials can enter your home and affect your indoor air quality.   It is important to service and clean your system and to change your filters more often in these conditions.  You may consider upgrading your filters to a higher MERV rating for finer filtration.
If you are in a heavy smoke filled area you may consider cleaning the ductwork in your home or office to refresh your entire system.   This is something you can seek advice from one of our indoor air quality specialists.
Enjoy all the perks of summer in the Central Valley
Homegrown by Purl's Sheet Metal employees!  Nothing beats home grown vegetables, especially tomatoes!  Lucky for us, Sheryl Berry and Pat Reese both have amazing gardens full of delicious vine ripened tomatoes.  They are kind enough to share with everyone!   Here are a couple of our Purl's Sheet Metal favorite recipes!
BLT Bites
Slice Tomatoes cross wise- Stuff with shredded lettuce, top with bacon and drizzle some homemade buttermilk ranch across the top!   Salad in a tomato…Amazing!   For an added bonus top with Feta or Blue cheese!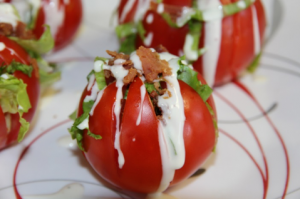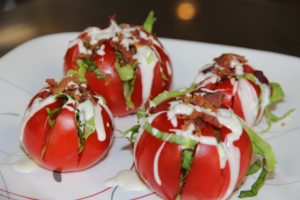 Don't forget your pets on these hot days.  Have a cool place for your pets with plenty of shade and fresh water.    Hot surfaces can burn their paws and many pets can overheat easily.  A little water in a kiddie pool is also a good choice for many pets.
Our best summer tip for your indoor home comfort is to make sure you air conditioning system is serviced by a professional HVAC technician so you are prepared for the long summer.  It is a good idea to call for preventative maintenance to avoid any major breakdowns during the peak season.    Our service technicians are trained professionals and will get your air conditioning system ready for the triple digits temperatures in Fresno, CA and the surrounding area.