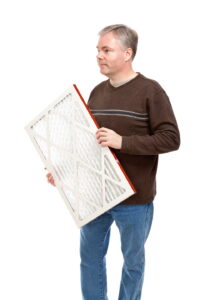 We hope you've already contacted our team for your annual heating maintenance. It's the best way to ensure your heating system works at its best through the coming winter. During maintenance, one of the steps we take is to replace the filter for the furnace. A congested filter creates numerous problems for a furnace, including causing it to shut down when you need it the most.
Although changing the filter is a maintenance task an HVAC contractor in Fresno, CA will do, it's one you'll have to handle as well, since the filter must be changed over the season on a regular basis. You can ask us how to do the filter change so you can take care of the job yourself until you see us again for AC maintenance in the spring.
Filter Change Frequency
How often does the furnace filter need to be changed? A good question, because there's no single answer to it. It depends on several factors, starting with the type of filter.
Panel filters are the most common furnace filter and the least expensive. You can purchase them in packs for about a dollar each. These filters are simple screens, and although they can take care of the job of protecting the interior of the furnace, they don't have much surface area and will clog up quickly. We recommend you change this type of filter out once a month.
Pleated filters are also common. They cost more to purchase than panel filters, but because of their thicker weave and increased surface area they can last longer before needing to be changed out. Most will last for three months, although sometimes shorter than this.
Media filters are the most expensive option, but they also can last through almost a whole season, four to six months. We caution customers about putting in a media filter on their own, since one of these filters can be too powerful and harm airflow if chosen wrong.
Other Factors
There are other considerations to how often you change the furnace filter. If you have animals in the house, there will be more dander getting caught in the filter and you may need to increase how often you check on it and change it. If people in your house smoke, the filter will also need to be changed more often, and if there are allergy sufferers, frequent filter changes can help reduce their symptoms.
Check on the Filter
The best way to learn how often to change the furnace filter is to make regular checks on it. We recommend a monthly inspection. Hold the filter up to the light: if the contaminants in the filter block the light, the filter is too clogged and needs to be changed. You'll soon learn a good schedule for swapping out the filter.
Pro tip: Whenever you put in a new filter, write the current date with a marker along its edge. That way you'll always know how long the filter has been in place.
Call Purl's Sheet Metal & Air Conditioning for all your heating needs this winter. "Quality Is the Cornerstone of Our Success" since 1952.