Purl's Sheet Metal & Air Conditioning is kicking off Coats for Kids 2020. We are now collecting coats for the Annual Coats for Kids drive in the Central Valley to spread the warmth to Fresno and the surrounding areas. We are proud to be working with our customers, local schools and our community to collecting coats. Collection dates are Nov 10th – Dec. 11th, 2020.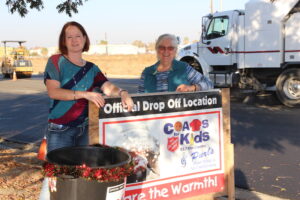 Drop off is Easy! Please bring new coats to our local office at 232 South Schnoor Street. For your safety, you can give us a call at (559) 674-2774 when you arrive in our parking lot and we will do a curbside pickup.
This year, due to Covid-19 the Coats for Kids program will be accepting NEW coats only in 2020. Please know that your donation of a new coat will go a long way to help keep the kids in our Valley warm through the winter months. This is especially important in a tough and unprecedented year like 2020.
Thank you to the teachers, parents and students at St. Joachim Schools. We were overwhelmed by the donations and generosity. We also want to thank our Customers, Friends and Employees, who are already bringing in coats for this drive. The support of our local community has a far reach and we may never know the full impact these acts of kindness have for our youth.
A BIG thank you to 93.7 Kiss Country radio station for all the great work they do! All of the coats collected will be given to children who need them most.