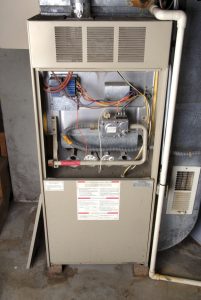 Are you looking into having a new heating system installed this fall? It's a great season to schedule this kind of major HVAC job: you'll be ready in time for the winter cold, and it's easy to have it arranged with our installers at a convenient time.
Picking the right new heater can be a bit tricky, however. Let's take a look at some of the choices we'll help you make when shopping for a heating installation or replacement.
The Furnace (Electric or Gas)
The furnace is the type of heating system found in the majority of homes, and if you're looking to have a replacement put in, chances are high that you're replacing a furnace. There's certainly nothing wrong with going with a furnace once more! These are reliable and powerful heating systems. The natural gas furnace is one of the most effective of all residential heating systems on the market, capable of overcoming the coldest days and nights, even in houses with poor insulation.
Of course, not all homes have access to a natural gas line. The electric furnace is always an option in this case. Electric furnaces cost more to run (electricity is a more expensive energy source than natural gas) but cost less upfront to install and can often last longer than their gas equivalents.
Ductless Mini Splits
A ductless mini split is a method of heating a home that bypasses the need for ductwork entirely. Instead of using a single indoor unit connected to a blower to send the heated air into the ventilation system, a ductless mini split operates through a series of smaller indoor blower units attached to exterior walls. The blowers send the heated air directly into the rooms. We recommend looking into going ductless if you have plans to remodel your home, are building a new home, or are adding on a room.
Ductless systems are types of heat pumps, which means they can reverse the direction they operate so they also provide cooling. This makes them an excellent option for replacing your heating and cooling. You can also use a standard heat pump that works much like a conventional air conditioner connected to ductwork.
System sizing
Part of finding the right heater for your home is seeing that it's the correct size. This doesn't mean the actual physical space it takes up (although of course you need a system that will at least fit in your home), but the amount of heating it puts out. A system that is undersized won't meet your warmth requirements. A system that's oversized will constantly turn itself on and off, a process called short-cycling that wastes energy and wears the system down rapidly. You can rely on us to discover the system tonnage (a measure of the amount of heating released, not system weight) necessary to provide your home with comfort. We'll perform a heat load calculation to discover the ideal size of the new heater, whether it's a furnace or another type.
To work with local experts in HVAC in Fresno, CA or elsewhere in the Central Valley, we're the contractor to call. We have over 65 years of experience helping to heat homes here, and we'll see that you end up with the right heating system to provide your family with many years of comfort without placing a huge strain on your budget.
Purl's Sheet Metal & Air Conditioning: Quality Is the Cornerstone of Our Success Since 1952.