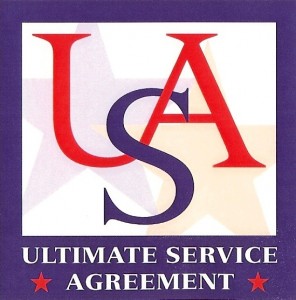 Now that the first day of spring has come and gone, it's time to shift priorities toward the warmer weather of the future—even though we'll still experience cold bouts in the months to come.
In the HVAC world, spring means thinking about air conditioners. We're a top provider for services for air conditioning in Fresno, CA and throughout the Central Valley. During spring, our most important AC service for our customers is routine air conditioning maintenance. It's necessary to have this job done before the hot months arrive and you need the AC running. We know things may seem cramped right now, but we recommend calling us to talk about your options and the best time to provide this valuable tune-up and inspection.
The Ultimate Service Agreement Makes It Easy for You
If you want to know the best way to care for your HVAC equipment and your spring AC maintenance, it's to join our maintenance plan: The Ultimate Service Agreement. With membership, you receive annual maintenance visits for your air conditioning system and your heating system, taking care of two vital yearly comfort services with one plan.
Here's what you receive with membership:
Two seasonal tune-ups and multi-point inspections per year. This is where all the big benefits are—more on that below.
Priority scheduling so you can jump to the head of the service queue.
Discounts on repairs and upgrades.
A 5-year warranty on all repairs that we do for you.
Easy scheduling, because we call to remind you!
How the Tune-Ups and Inspections Help Your AC
As we said, the big benefits you'll enjoy are packaged into these maintenance services. Everything we list below for your AC system also counts for your heating system as well.
Extended service life: Your air conditioning system will not reach it maximum service life unless it has professional maintenance. Without maintenance, it may only last 7 or 8 years. With maintenance, it may easily reach 15 years.
Fewer repair needs: A system that's regularly tuned-up and cleaned and inspected for potential future problems will have far fewer repair needs over its life. In fact, 85% of repairs are preventable thanks to maintenance.
Avoid surprise breakdowns: Your air conditioning system is "armored up" for a summer season when it has a full inspection and tune-up just before. You'll have little concern it may fail on you over the season.
Better energy efficiency: Letting an AC system run for summer after summer with no cleanings or adjustments will lead to a decline in how efficiently it runs. It will drain more energy each year. Maintenance helps to slow this process down and keep your bills under control.
Warranty protection: Failure to have an air conditioning system professionally serviced annually may void the manufacturer's warranty. That might leave you stuck paying for a large repair that was due to a factory fault.
Add up all these benefits, and you'll see how membership in our maintenance plan pays you back in many ways. Call our office for more details and to sign up.
Call Purl's Sheet Metal & Air Conditioning to schedule air conditioning maintenance: "Quality Is the Cornerstone of Our Success" since 1952.