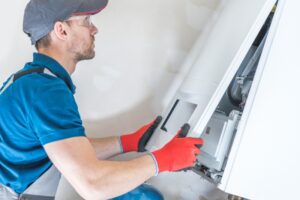 We can expect high temperatures throughout September here in the Central Valley, so it may seem strange that we'd recommend you start to consider service for your furnace. However, the best time to take care of regular maintenance for a furnace is in the fall, preferably at a time when you don't yet need the furnace.
An annual furnace inspection and tune-up is as mandatory as mandatory as HVAC jobs get. We don't want you to overlook it, and you can make arranging for maintenance easy as a member of our Ultimate Service Agreement. Below we'll go over the best benefits of having your furnace given the full maintenance treatment this fall.
Safety
Although not inherently dangerous, gas furnaces can pose potential risks, especially if they're not well-maintained. During your maintenance appointment, one of our pros will thoroughly inspect your furnace for any gas leaks, heat exchanger cracks, faulty electrical connections, or other safety hazards. You can address any issues promptly, ensuring a safe and secure home throughout the heating season.
Better Energy Efficiency
A well-maintained furnace operates at greater energy efficiency, which translates to energy savings on your utility bills. During maintenance, our technicians will clean and lubricate essential components, ensuring that your furnace doesn't have to work harder than necessary to heat your home. This improved efficiency not only reduces energy consumption but also minimizes the overall environmental impact.
Fewer Repairs
One of the most significant advantages of regular furnace maintenance is the potential to avoid costly repairs down the road. During maintenance, we'll identify minor issues before they escalate into major problems. This proactive approach will save you from the inconvenience of a sudden breakdown and the expenses of emergency repairs.
Less Risk of a Breakdown
There's nothing worse than waking up in the middle of a chilly night to discover that your furnace has stopped working. Regular maintenance significantly decreases the likelihood of this happening. When you address wear and tear early on, you'll enjoy a reliable heating system throughout the winter.
Longer Equipment Lifespan
Investing in a furnace is a significant expense. To maximize the return on this investment, it's essential to extend the lifespan of your equipment. Regular maintenance helps to prevent premature wear and tear, ensuring that your furnace serves you well for years to come. The minor cost of maintenance pales in comparison to the expense of replacing a furnace that has failed prematurely due to neglect.
Keeps Warranty Valid
If your furnace is still under warranty, you'll want to ensure that the warranty remains valid. Many manufacturers require proof of regular maintenance to honor warranty claims. By keeping up with annual maintenance, you're not only getting the benefits of a well-functioning furnace but also safeguarding yourself from having to pay for repairs or other services the warranty covers.
So as you start to make preparations for the fall, even in the midst of hot weather, don't forget to schedule your furnace maintenance appointment—your future self will thank you.
Looking for professional furnace repair or furnace installation in Fresno? Contact us today to schedule an appointment! Purl's Sheet Metal & Air Conditioning Has Offered Uncompromised Quality & Customer Service Since 1952.