The thermostat that controls your HVAC system can have an enormous impact on how well your home's heating and cooling operates. A thermostat with special features will help you enjoy improved comfort while lowering monthly energy costs.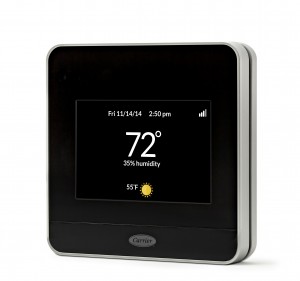 The finest in current thermostat technology goes far beyond the standard programmable models that many homes still use. Carrier offers the Côr Wi-Fi thermostat with state-of-art features that help homeowners save an average of 20% on heating and cooling energy costs.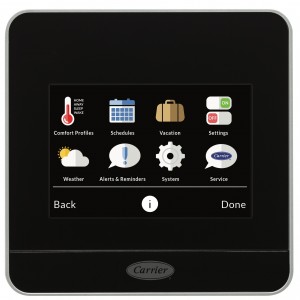 Some of the Superb Features of a Côr Wi-Fi Thermostat
The Côr thermostat is an innovative comfort control system that helps homeowners with smart energy use through a user-friendly interface. It includes these key features:
Smart setback that adapts from your manual programming to increase energy efficiency—but without sacrificing household comfort.
One-button quick setting change for convenience.
Auto changeover between heating and cooling.
Remote access through the Internet with Apple and Android apps on smartphones or tablets so you can control your home comfort settings from anywhere.
Energy reports to show how much you're saving.
Customized energy saving tips that tell you how you can further improve efficiency.
Day-at-a-glance 7-day programming.
Vacation hold programming.
Local weather 4-day forecast.
Easy to use full-color touch screen with intuitive on-screen prompts, guided setup, and guided scheduling.
Compatible with humidification products to further improve indoor comfort.
Battery-free: the thermostat works through a connection to major system components.
We're a Carrier Factory Authorized Dealer, and that means we work directly with Carrier so our customers can receive the best equipment, installed right. If you're looking to have a new HVAC system installed at the end of summer or start of fall, give us a call—and ask about including a Côr Wi-Fi thermostat so that you can receive the best from your system!
Purl's Sheet Metal & Air Conditioning has served Fresno and Clovis, CA since 1952.