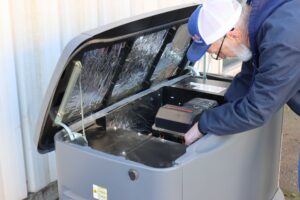 This month record snowfall blankets the Sierra Nevada Mountains and the outlaying areas of the Central Valley. Central California is experiencing record rain, snowfall, ice, wind, and even blizzard warning conditions. Fresno and Madera Counties and our entire Central Valley have been hit hard with wildfires that have devastated homes and the natural surrounding areas and led to lengthy power outages. When you add our current record winter to that damage, we are faced with people being stranded from snow and possible flooding. All of this can lead to more lengthy power outages and emergency situations.  
At Purl's Sheet Metal & Air Conditioning we can help give you peace of mind for power outages and storms. Installing and investing in an emergency back up generator gives you security knowing you will be able to withstand power outages. A backup generator can provide heat to your home and keep your refrigerator and septic systems in full operation. If you live in an area prone to weather and storms, it is likely worth the investment and money. This is a good time to look into the available types of generators and find out which system would work best for your home or business. 
5 Good Reasons to Install a Backup Generator
#1. Peace of mind. Backup power during and outage can be critical. A backup generator seamlessly switches over and takes control of powering your home. This will keep your family warm or cool and keep your food supply from spoiling. When the outage is over, the backup generator will reconnect to your utility provider and restore power to normal operations.
#2. No re-fueling needed during a storm. Portable units often need to be refueled during an outage, and running out of fuel can be a concern during an emergency. Backup generators are directly linked to your natural gas line or a propane line, so running out of fuel should never be a problem.
#3. Updates and monitoring of your backup generator system off-site. You can check your backup generator system on your mobile phone or computer from wherever you are. Receive notifications and check the status from anywhere.
#4: A safe way to ride out any storm. Safety installed by experts. The moment the power goes out your system will safely take over.
#5: Operates in any type of weather. Backup generators will start and run during any type of weather to insure you are safe and comfortable in your home or business.  
If you are interested in finding out more about the backup generators we install and the benefits and peace of time, please give us a call for a free estimate. At Purl's Sheet Metal & Air Conditioning, our sales and install team are trained to help you choose the best system for your home or business.