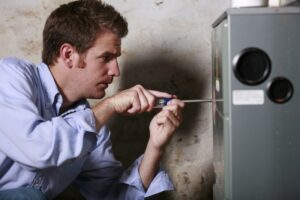 The furnace has been the most common type of home heating system for many decades. As with anything that's been around that long, a number of myths have gathered around the furnace that many people still believe. Although the internet allows for rapid debunking of many of these misconceptions, it also allows for the misconceptions to continue to spread.
We want you to know the truth about your furnace so you can get the most out of it and enjoy safe comfort every year. You can trust our team for professional furnace service in Clovis, CA or elsewhere in the Central Valley whenever you need it.
Myth 1: Restoring old furnaces can save money
Restoration of many old appliances and devices can give them a new lease on life while helping to save money off buying a new one. A furnace, however, isn't a candidate for restoration. Restoring a furnace won't bring it up to the current standards for energy efficiency of new furnaces. It's not a good use of your money to restore a furnace for a few more years of middling performance. Installing a new furnace also comes with a new warranty, something you won't get with an older furnace, no matter how well restored it is.
Myth 2: High-efficiency furnaces guarantee energy efficiency
It's easy to believe this one. Why wouldn't changing from an 85% AFUE furnace to a 92% AFUE furnace result in a reduction on annual heating costs? This should be the case, but the truth is that proper installation and selection of a furnace is necessary for it to perform to its energy efficiency standards. If you end up with the wrong size furnace that's been put in with inferior installation, it will waste money no matter how high it's AFUE rating.
Myth 3: Electric furnaces can save money because they have 100% AFUE
The reason that electric furnaces have 100% AFUE is because, unlike gas furnaces, they do not lose any heat energy to exhaust. This is just naturally the way electric furnaces operate, and the 100% AFUE is a given. An electric furnace can cost more to run than a gas furnace if the price of electricity in the area is higher than that of natural gas.
Myth #4: A bigger furnace is better
Another easily understandable mistake: it seems to make sense that when looking for a furnace, it's better to err on the side of one that's too large rather than one that's too small. But an oversized furnace is a major problem. It will start to short-cycle, meaning it turns on and off rapidly, never fully completing a heating cycle. This not only means the furnace won't stay on long enough to properly heat the house, it will waste money from turning on so often and cause its parts to wear down rapidly. You want a furnace that's the exact sweet spot between too large and too small.
Myth #5: Furnaces don't need maintenance if they're working fine
The purpose of furnace maintenance is to see that a furnace that's working fine continues to work fine. If your furnace is struggling, you need to call for repairs, not maintenance. Maintenance is a job that's necessary annually to ensure that your furnace won't lose energy efficiency, won't malfunction due to wear and tear, and will last for as many years as possible.
Reach out to Purl's Sheet Metal & Air Conditioning for all your furnace needs. Uncompromised Quality & Customer Service Since 1952.