Purls Sheet Metal & Air Conditioning employees and their families had a fantastic time at the 2014 Parade of Lights in Madera, CA. The 21st Annual Madera Light Parade was held on Thursday December 4, 2014. The annual light parade is a tradition in Madera that begins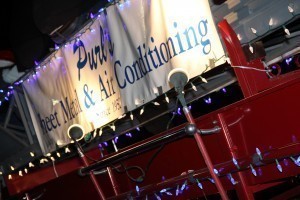 the Holiday Season with a spectacular Christmas celebration of lights. Each year the event is coordinated and hosted by the Madera Kiwanis Club and the Downtown Association.
The light parade began 21 years ago as a procession of farm equipment and tractors down historic Yosemite Avenue in Madera, CA. Today, the parade route continues down Yosemite Avenue and still includes tractors and harvesters as well as fire trucks, cars, semi-trucks, flatbed trailers and just about anything else you can put lights on. There is only one qualification to enter … each vehicle must have a minimum of 100 lighted Christmas lights. Madera residents lined the streets of Yosemite Avenue and cheered for their favorite entries.
Purl's Sheet Metal entered the parade again with their fleet of antique fire apparatus decorated and loaded with Purl's Sheet Metal employees and families. It was a great evening for us to bundle up and barbeque hot dogs, drink hot cocoa and sing some Christmas carols. The Purl's Sheet Metal & Air Conditioning fleet includes, 1979 Crown Fire Coach Pumper, 1951 American LaFrance Pumper and 1948 American LaFrance Aerial Ladder Truck.