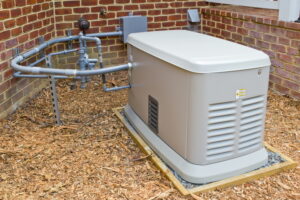 With erratic weather, wildfires, and electrical grid trouble, extended power outages are becoming increasingly common in California. This has caused more people to consider getting generators for their homes so they're ready in case of an emergency. Having a steady power supply is more than just a convenience: there are situations where it can be life-saving.
We definitely recommend you consider getting a generator in Oakhurst, CA or wherever you live in the Central Valley. Our technicians are generator installation experts and can help see that you have the right system for your needs.
The Whole-House Generator
The type of generator we advise for homeowners is the whole-house generator. This is different from a portable generator in that it's a permanent installation hard-wired into the home's electrical system. Portable generators do have their uses, such as for camping and to keep for emergency purposes in a vehicle. But when it comes to powering a home, the whole-house generator is the most effective method.
The Benefits of a Whole-House Generator
Here are the top reasons we recommend you have a whole-house generator installed:
Power: A whole-house generator can supply higher voltage to a home than even the best portable generator: portable generators can output 3,000 to 8,000 watts, while whole-house generators output from 8,000 to 20,000 watts. When you arrange for a whole-house generator installation, you can choose to have a model that supplies enough electricity to power all parts of the house, from the HVAC system to the lights. You don't need that much power if you don't want it, but you have the option.
Safety: A major concern with portable generators is that you have to bring them into the house to connect them to the electrical panel or for various appliances. This means the generators will send toxic exhaust fumes into your living spaces. Whole-house generators don't have this problem because they are installed outside your home, keeping your indoor spaces free from dangerous emissions.
Reliability: If you have access to a natural gas line, a whole-house generator is one of the most reliable ways to power your house in an emergency. You don't have to worry about running out of fuel for the generator because it's tapped into the natural gas supply. Even if you don't have a natural gas line, you can use a liquid propane generator that can run for days or even weeks at a time without needing more fuel. (A generator uses from 13 to 48 gallons of fuel per day it runs, depending on the house size and specific needs.)
Quiet: Having the generator outside your house means the noise of the motors running won't become a source of noise pollution. Whole-house generators run quieter anyway because of their weatherproofing.
Convenient: You don't have to wheel out and set up a whole-house generator the way you do a portable one. Simply switch it on. If you opt for an automatic standby generator, you don't even need to do that—the generator turns on automatically when it detects the home has lost power.
The peace of mind of having a whole-house generator is worth it all on its own. Talk to us today to learn more about how we can set up your house with a great generator.
Contact Purl's Sheet Metal & Air Conditioning to schedule generator service in the Central Valley. Uncompromised Quality & Customer Service Since 1952.